MEDICAL DERMATOLOGY
General dermatology
Dermatologists are specialists in the diagnosis and management of all disorders of the skin, hair and nails. Dr Le has a professional interest in the management of rosacea, acne and psoriasis.
Skin cancer detection and management.
She is an expert in the diagnosis of melanoma and non melanoma skin cancer (basal cell and squamous cell carcinoma). Comprehensive skin checks are performed to enable early diagnosis and treatment. This will result in a cure in the vast majority of skin cancer. Dr Le will discuss with you the appropriate treatment for your skin cancer, based on the type of carcinoma, stage of development and site. Treatments range from various chemotherapy creams, non-surgical physical therapies to skin surgery. Medicare rebates are applicable if you have a valid referral from your general practitioner.
[photo of skin check]
UVB Phototherapy
Narrowband UVB Phototherapy delivers a specific wavelength of ultraviolet light to the skin, in order to decrease inflammation. It is used to treat a number of skin conditions, including psoriasis, eczema, chronic itch, vitiligo and cutaneous lymphomas. Phototherapy is performed three times a week, usually for a period of 3 to 6months.
Photodynamic therapy
PDT is a non surgical treatment for superficial skin cancers and precancerous lesions (solar keratoses). The treatment involves application of a light sensitising medicated cream (ALA) which is taken up by cancerous or precancerous cells. Exposure of the cream to a light or laser results in the destruction of these cells.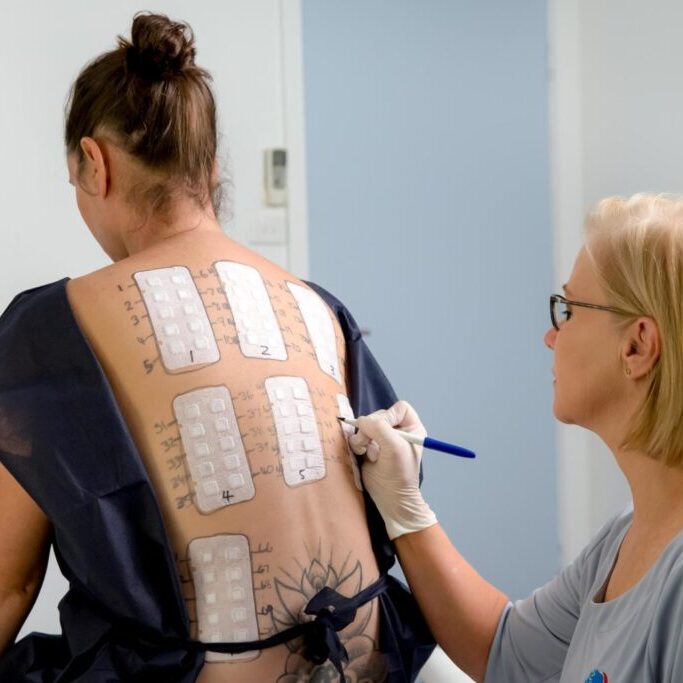 Patch Testing
Patch testing is performed at Port Macquarie Dermatology to diagnose contact allergic dermatitis. A range of substances (including preservatives, fragrances, dyes) are applied to the patient's back and the area observed for reactions. A list of allergens and relevant information is then provided to the patient for future reference.
Anti-Sweating treatments
Botulinum toxin injections can also be used to treat medical conditions such as excessive axillary sweating. Injections work by blocking the chemical which causes sweating. Medicare rebates may apply for anti-sweating treatments performed by dermatologists and for patients who have failed other the counter treatments for sweating. Treatments can be performed 4th monthly, however the effects of treatment may last 6-9 months.
Iontophoresis treatments for excessive sweating affecting the hands and feet are available. This technique uses water to conduct a tiny electrical current which blocks sweating. This is safe and easy treatment, conducted in the practice daily until sweating ceases then cut back to fortnightly.